Hey folks! I haven't linked to the Wordless Wednesday blog hop since I started this new blog, so it's been a while. The hop is a lot of fun, so I thought it was time I got back on board. The theme this week is "Retro"
It doesn't get much more retro than those hairdos! And check out those shades- they're making a comeback! I'm on my uncle's shoulders here on a trip in 1986!
Don't forget to Link Up with
Focused on the Magic
to see more great Disney Wordless Wednesday pics!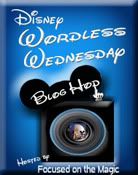 This post carries a disclosure Level of 0. Please see my disclosure page for more details.